Welcome to Shaman's Drum Foundation, a nonprofit organization dedicated to the exploration and preservation of shamanic healing traditions around the world. SDF is planning to publish a new online journal—Shaman's Drum Online—and to maintain an archive of educational and historic shamanic material.

In the tradition of the orginal Shaman's Drum, our goal is to further the understanding of shamanism for the greater good of individuals, communities, and our planet.
Back issues of the original, printed Shaman's Drum, which has ceased publication, are already available for sale through our website. A list of available issues can be downloaded here. Currently, magazines can be ordered via email (write to us at the address below), and by the end of October, our shopping cart will be online.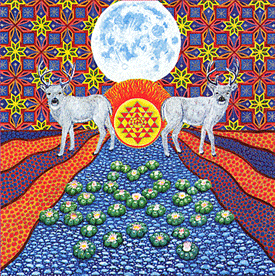 We will soon be posting the first few articles of our library, which will be expanded in the near future to include many more historical articles about shamanism and selected articles from back issues of the journal.
In the meantime, if you have questions about the project, or if you would like to make a donation to help manifest this vision, you can contact us at: